Lisbon has recently joined the main destinations in Europe, for various reasons that made it super attractive, including gastronomy, good weather and very low prices.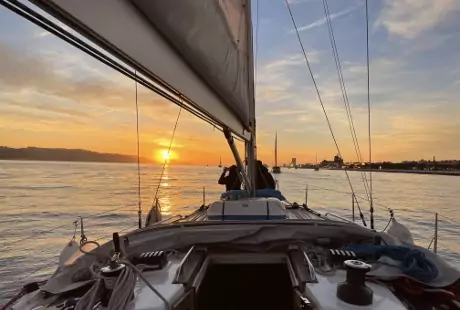 In this list we are going to tell you about the three best boat trips in Lisbon, leave some tips on the best boats, options that you should choose depending on the type of event.
COUPLE BOAT TOUR
If you are traveling as a couple and are looking for a different experience, a boat tour is a great option for you! Hire a private boat easily on this link or follow click on the next item to preview the experience. Online booking available. Contact us if you have special requests for this experience.
Lisbon Boat tour – regular
This tour is the most chosen, for small groups and families, up to 12 guests.
The departure of the boat happens from Lisbon. This experience begins as a 2 hour experience, but you are able to book more hours according with your budget and pretended route. We recommend 3 hours for a regular Lisbon Boat Tour, the triangle between Belém – Commerce Square – Christ Monument. You are also able to do it in only 2 hours.
A 4 hour boat tour, allows you to extend the tour up to the Nations Park and after continue the regular boat tour route. We recommend this duration for family/friends boat tours, boat parties and general events where you want to sail slowly along the tagus river and don't be worried about the returning time.
For events where you pretend also to anchor the boat and go for a swim, it's possible to go closer to a calm beach, where you will be able to swim.
A 6 hour boat tour, is ideal for a combination of tour and beach day. For example, we can follow the regular Lisbon Boat Tour route, and additionally go for an anchor area so you can have a calm meal and enjoy with your family.
An 8 hour boat tour, is a great option if you pretend to sail up to Oeiras or Cascais and not be worried about the return. This type of duration is more common on the summer days, where for sure you want to go for a swim.
About the boat, it's very comfortable, it has rooms, kitchen and toilet on the interior, and siting areas and table on the exterior. If you are a sailing enthusiast it's also possible to ask the caption to try the wheel and take some memorable pictures!
We decided to include the boat party experience on this list, because it's also a touring experience. You can have a party on board, and at the same time enjoy the view along the Lisbon Boat Tour.
It's a great experience, very dynamic that you and your friends or family will never forget. The boats suited for boat parties are the catamarans. Please contact us if you have any questions about the boat party in Lisbon.
BEST 3 BOAT TOURS IN LISBON
Which tour to choose ?
The most complete tour is the "Lisbon boat tours" because it's route covers the main icons of the city.
In two hours you will have a great experience passing in front of Belém Tower, Belém Gardens, Discoveries Monument, 25th April Bridge, Commerce Square, Alfama, Christ Monument, and enjoy the beautiful view over the Lisbon valleys.
All this, accompanied with a friendly crew, who will share some interesting facts about the city of Lisbon and serve a wine during the tour.
Where is the pick up and drop off?
Departures and arrivals take place from Belém or Alcântara. The exact meeting point will be shared after booking. The time can be chosen by the customer.
What about the bookings ?
About Lisbon Boat Tours reservations, on this site you will find private tours, which means that you will have the boat just for you. We are currently not selling tickets for these tours.
Can I pay deposit for booking ?
Yes you can pay deposit and the remaining when boarding in.