All boats include crew, fuel and operational costs
Bluetooth sound system available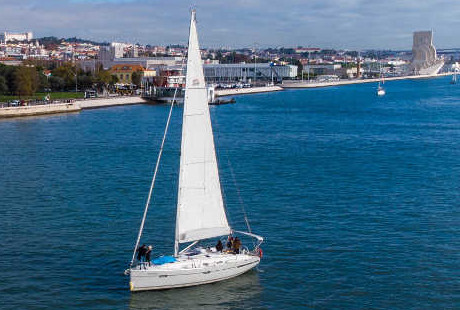 Lisbon, with its blend of rich history and vibrant modernity, offers an array of captivating experiences for every kind of traveler. One of the most enchanting ways to explore the city is by embarking on a boat trip along the Tagus River.
As you glide across its tranquil waters, you'll be treated to breathtaking views of Lisbon's iconic landmarks – the majestic Belem Tower, the grand Jeronimos Monastery, and the striking 25 de Abril Bridge.
The rhythmic swaying of the boat and the gentle breeze create a soothing ambiance, allowing you to unwind and absorb the city's beauty from a unique perspective.
For those seeking both relaxation and adventure, the boat trips along the beaches of Linha do Estoril present an ideal opportunity.
These excursions take you along the stunning coastline, where golden sands meet the azure waters of the Atlantic Ocean. The picturesque beaches, such as Cascais and Estoril, invite you to bask in the sun, take refreshing dips, or even indulge in thrilling water sports.
The boat journey provides an idyllic escape from the city's bustle, allowing you to soak up the serenity of the ocean while reveling in the coastal charm of quaint villages and luxurious resorts that line the shores.
In essence, Lisbon offers an exquisite blend of cultural exploration and natural beauty, with boat trips on the Tagus River and along the beaches of Linha do Estoril standing out as immersive experiences that promise both relaxation and wonder.
Whether you're an adventurer, a history enthusiast, or simply a soul in search of tranquility, these boat trips will undoubtedly leave an indelible mark on your memory of this captivating city.