Planning a marriage proposal on a boat ?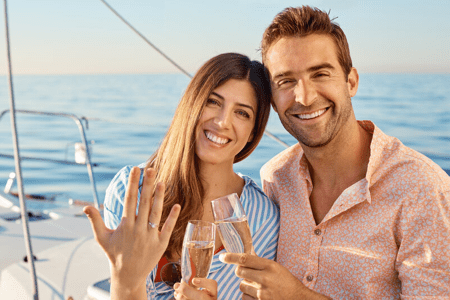 Marriage proposals are becoming underrated by the day because people keep repeating the same thing. Going down in the restaurant or at a friend's party is now relatively tagged as "incoming proposal." However, yours can be different.
If you need to give your partner the best proposal surprises ever, then you should try proposing in a boat. If you've been thinking of this, or you don't know how to get it done, you should pay attention to the end.
Before you are done reading, you would have understood everything you need to note regarding how to propose on a boat to your partner. This special timeout needs to be celebrated in a special way, and what other special way do you need than on a yacht.
One of the most important characteristics of proposing is getting your partner the surprise, ensuring they don't know your next move until it's unravelled.
If this sounds like what you are looking for, then, below are some of the tips you should note if you need to create the perfect romantic proposal on a boat.
1. Ensure that your partner isn't aqua-phobic:
This should be the first factor to consider before you plan a romantic boat proposal for your partner. There are several individuals that are aqua-phobic and it's not gender-based. If your partner is in this category, then it might be somewhat difficult to carry on with plans because it's not advisable that you put your partner in such a complicated position. They might not find it funny finishing themselves on the yacht in the middle of the sea all in the name of proposing. So, the first step to securing a romantic boat proposal is by first ensuring your partner is okay with it and they are aqua-phobic.
2. Choose a preferred time:
Choosing a time will mean either during the day or at sunset. However, it's advisable that you choose sunset because by then, everywhere would have become chilled and the water even cooler.
A sunset cruise is an ideal time to pop the question to your partner right there on the boat. Learning how to propose on a boat isn't difficult once you understand these few steps. You are few steps away from making your partner the happiest person on earth. Although you are popping the same question as several persons, the difference is in the manner of proposal. With the right plans, you could have wines and drinks sent to your coach the moment everything sets.
3. Get creative with your proposal:
As mentioned earlier, one of the core reasons why most individuals detest public proposals is because they are becoming too easy to guess. The element of surprise in your proposal is what will make it standout from the many others. So, ensure you have this at the back of your mind before popping the question.
Knowing how to propose on a boat isn't just proposing on a boat, but also what you need to do before, during and after the proposal. You might have your proposal in such a way that before the proposal, you have the ring delivered to you via a helicopter on the yacht alongside some other acts your partner might find interesting.
If she's an anime lover, then you might have SpongeBob around the boat, waiting for the time you will be popping the question. All of these are what adds creativity and uniqueness to your proposal, even when it's done on a boat.
4. Don't forget the music:
Nothing beats a soft underground music when you are about to propose. Most people get their partner's favourite musician on board for a live show before popping the question.
So, imagine yourself, your partner and their favourite music band or musician on a yacht in the middle of nowhere. Music coming in underground, while watching the sunset.
With this scene, it becomes somewhat easier for you to pop the question. Music feeds the soul and if your partner is a music freak, you are two steps ahead. You need not worry about making their night special again, you've done more than enough.
Just proceed to asking and you'll be surprised at what their reply would be at the end of the day.
5. Dress accordingly:
Here's another important factor to note. What to wear is also a very important factor to note when asking of how to propose on a boat. Since it's a boat, you should probably go for something very convenient.
Unless you'll be going to the restaurant on the boat, you shouldn't be uptight with suits and tie. However, if your partner loves you on this, then you should put it on. If they don't, it's advisable that you go for something very convenient and more than your dressing, don't forget to go with your confidence. You'll be needing it the most.
Book here