The 11 Best Spots to Watch the Sunset in Lisbon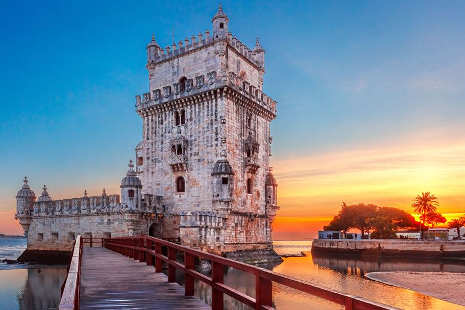 Lisbon is one of the most beautiful European cities and has stunning sunsets. There's nothing quite like watching the sun dip below the horizon while enjoying a glass of wine and some good company. Fortunately, there are plenty of great places to watch the sunset in Lisbon. If you find yourself at a sunset hour in Lisbon, go to one of these stunning spots to watch it. From places you can walk up to, to places that are only accessible through sunset cruises in Lisbon. From iconic viewpoints to hidden gems, you're sure to find the perfect place to watch the day turn into night. The time for sunsets in Lisbon changes drastically, ranging from 6:30 P.M. to 9:30 P.M., depending on whether it is winter or summer.
1. Castle Hill / Castelo de S. Jorge (St George's Castle)
For those who want to add a touch of romance (and history) to their sunset viewing experience, head up to Castle Hill. As well as providing unbeatable views over Lisbon, this is where you'll find Castelo de S. Jorge (St George's Castle) – a Moorish fortress dating back to Medieval times.
2. Ribeira das Naus Boardwalk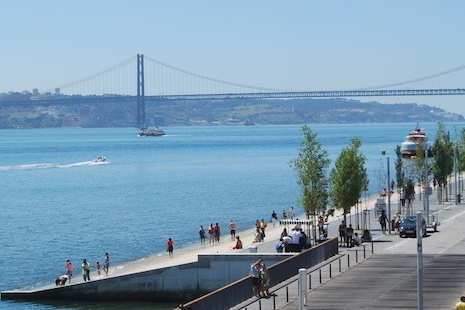 Located in the Belém harbor area, Ribeira das Naus Boardwalk is perfect for watching the sunrise and sunset over the Tagus River. Access to this stretch of Lisbon is restricted, you can only access it by walking. A ramp to the river extends for a couple of hundred meters along the river border, where people usually sit to enjoy the sunset.
3. Senhora do Monte Viewpoint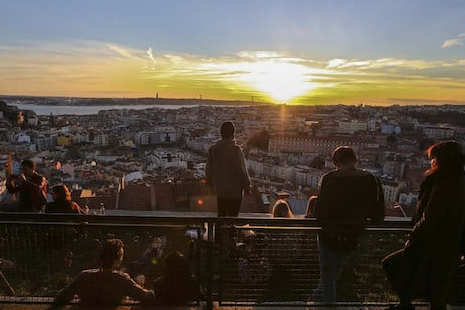 Venture to the top of Graça hill for a panoramic view of Lisbon's skyline. This is one of the most popular sunset spots in the city, so be sure to arrive early to snag a spot.
4. São Pedro de Alcântara Viewpoint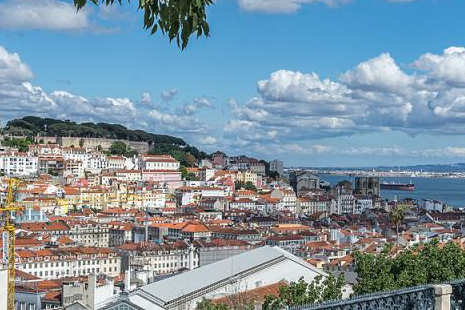 This equally popular sunset-watching spot is just a stone's throw from the Senhora do Monte Viewpoint. This terrace provides sweeping views over Lisbon's neighbouring hills, making it the perfect place to watch the sun sink behind them.
5. Praça do Comércio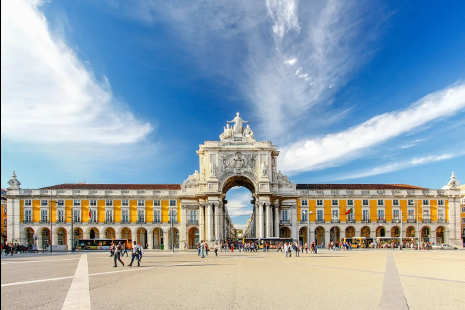 Often referred to as "Terreiro do Paço" this historic square was once used as a landing point for ships arriving in Lisbon. Nowadays, watching the sunset fall over the Tagus River is an impressive setting.
6. Santa Luzia Viewpoint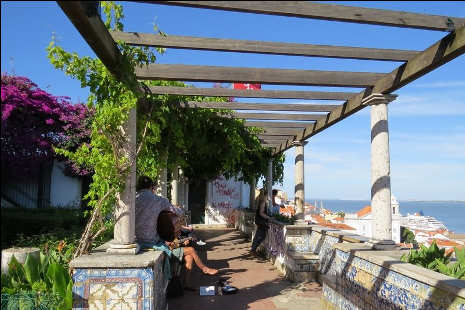 Located in Chiado, this terraced viewpoint offers unbeatable views of St George's Castle. Head here for a sunset picnic and take the view as the sky turns from orange to pink, to purple.
7. Parque das Nações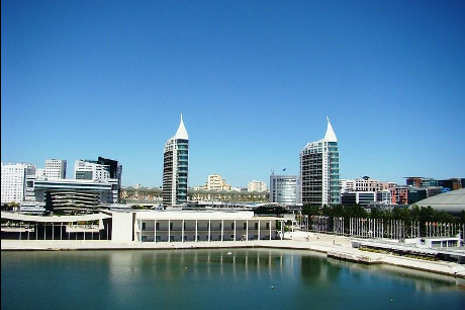 For a different perspective of Lisbon, head to the city's modern district of Parque das Nações. You can watch the sunset over the Tagus River from this relatively new area of town.
8. Belém Tower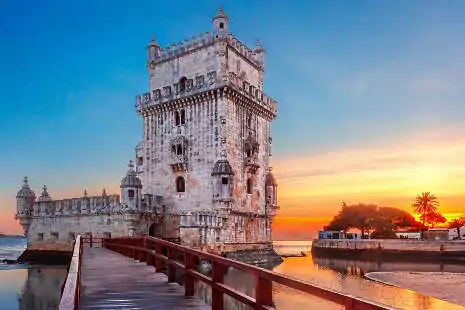 Rent a Lisbon sunset boat tour as the sun dives behind Belem Tower- one of Lisbon's most iconic landmarks. As you glide down the river, enjoy picturesque views of the Ponte 25 Abril (25th of April Bridge), Padrão dos Descobrimentos monument, and more.
9. Casa da Guia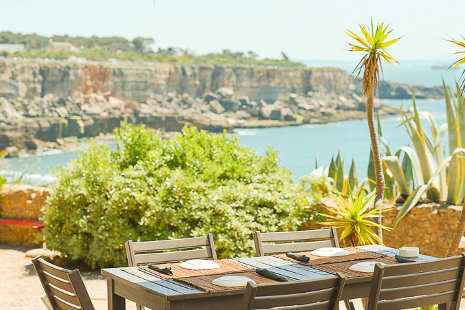 This charming spot is located near the most Western point in mainland Portugal, in Cascais, and is atop a 30 to 40 meters cliff that drops to the Atlantic Ocean. There are several restaurants and bars in Casa da Guia, some more affordable and some more expensive, which are sure to cater to your tastes and budget.
10. Charter A Sunset Cruise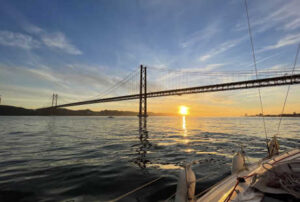 To have a truly amazing experience, you can move away from places with people by chartering a sunset cruise in Lisbon. On a boat tour, you can choose where you want to see the sunset. If you go beyond Cascais, you will have an unobstructed view of the Atlantic Ocean, and you will be able to witness the sun setting down in the water, down to the last flash of sunlight. What are you waiting for?
11. Christ Monument
Finally the Christ monument is one of the many beautiful options to watch the sunset in Lisbon. Whether you're looking for an iconic viewpoint or a hidden gem, there is no shortage of amazing places to watch the sunset in Lisbon. Contact us now to find the best sunset experiences we provide!