How to have the bachelorette boat party of your dreams?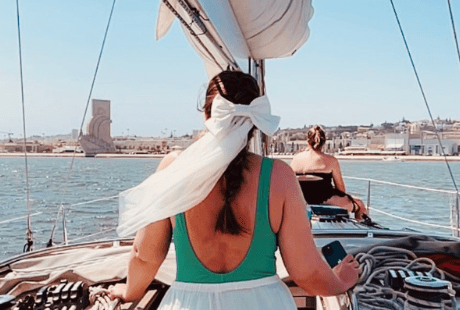 If your dream is to have a bachelorette boat party, all it takes is the right planning to achieve it. While planning this party, it is important to get as much idea about the kind of experience you'd like to have.
Hence, don't plan your bachelorette party alone. For the best experience, you can contact companies like LisbonYacht to help you realize this dream. With LisbonYacht, you can organize boat tours and private events on any boat type, from sailing boats and catamarans to big yachts.
So, if you want to throw the perfect bachelorette party on a boat, follow the guide below to know the essentials and plan the perfect getaway on a boat.
1. Define your expectations
Before you can plan the perfect bachelorette party, you must define your expectations. So, the first thing you should do is sit down with friends or an organizer and talk about them. So, rather than simply planning for a party in any direction, planning based on the group's expectation puts things in perspective. There ought to be a lot of communication during this phase. Also, if you are planning a surprise bachelorette party for the bride, it is important you put her likes and dislikes into consideration.
2. Set your budget
The next significant step to take while planning the perfect bachelorette party is budgeting. While many people will agree that you can't put a price on what a bride is worth, that doesn't mean you shouldn't have a budget for the party. Having a budget is crucial for the planning phase. With your budget, you will be able to know the class of boat to rent, the type of drinks to get and other extras needed.
3. Pick out a party theme
Picking out the theme you're going to have for the bachelorette party is like half the fun of the planning phase. Don't be scared to be creative while picking out a party theme, after all, it is the feeling of a little wide and loose that makes a theme party such a fun time.
For example, if the bride is a big fan of Disney, then you can go with a little mermaid theme. And if she is an avid traveler, you can turn the boat into a Lisbon Luau.
4. Choose a venue
While the main party is going to be held on a boat, this doesn't mean you shouldn't have a venue. You need to have a location where you all will convene and a time when you will set sail. Also, you should have a direction, perhaps while partying, you'd love to be as close to shore, or you may want to go to the middle of the ocean.
5. Prepare refreshments
A bachelorette party isn't complete if there aren't mouth-watering arrays of foods and drinks. What you serve your guest depends on how long you plan on partying. It is more appropriate to prepare cooked meals for the party if you are planning a whole day party.
Don't forget to hire a bartender to create a signature cocktail. An alternative can be to bring your drinks and store them in a cooler to keep them at the right temperature.
6. Coordinate
with the guests At this stage, we must state that planning a bachelorette boat party of your dreams can be quite tasking. You can get incredibly caught up in ensuring everyone is having a good time that you may not have such a great time.
Hence, to ensure you have the best time, everyone attending the party should have a role. Assign someone to handle games, someone else should be responsible for drinks, and so on.
7. Plan your activities
Drinks and music set the right party mood, but what will make the bachelorette boat party of your dream fun is having a plethora of fun activities. Have a schedule of what should come first and what should come last. Activities you can engage your friends in include swimming, diving, snorkeling, fishing, and so on.
8. Rent the best boat
Lastly, and the most crucial part of planning a bachelorette boat party of your dreams, is renting the best boat. LisbonYacht will help you pick the perfect one for you, from cruises to captained vessels, luxurious yachts, and so on.
Whatever boat you decide to settle for should be right for the party you are planning to have. The number of guests you are planning to party with will also determine the size of the boat you rent.