11 unique things to do in Lisbon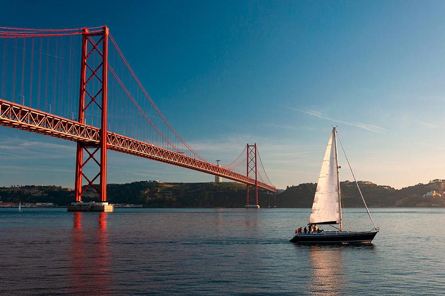 Are you planning a trip to Lisbon and not sure what to do while you're there? We've got your back with this list of 11 unique things to do in Lisbon
Lisbon is the hidden gem of Europe. It has all the intrigue and beauty that travelers all over the world are drawn to, yet it still provides visitors with space to truly explore its splendor.
Lisbon is right on the water. And not just any ordinary water. Some of the best water for boating, dolphin watching, and surfing, in the world.
So let's get to the point! The following are 11 unique and oh so fun things to do in Lisbon, that will guarantee your Portuguese getaway is one to be remembered.
1. Join the dolphin explorers Lisbon for a day
Not every city in Europe can offer travelers a dolphin-watching experience.
But Lisbon isn't like other European cities. And this is just one of the many reasons why the city is such a unique place to visit.
One great thing that happened due to the pandemic (never thought we'd say that) is the revival of aquatic life. There are more dolphins around Lisbon than ever, so now's a great time to go exploring and witness their natural beauty.
Dolphin explorers Lisbon are led by marine biologists that provide sight seers with plenty of interesting information as well.
2. Enjoy a day at Praia da Conceição
Cascais, which is near Lisbon, also has some of the best beaches in the area.
Perfect for surfing or getting an up-close view of the abundant ocean life.
3. See the Tower of Belém
Along the legendary Tejo river, sits the Tower of Belem. This ancient tower was built nearly 500 years ago, and truly hold's a piece of Lisbon's soul. In other words, it's a must-see.
The Tower of Belem can be seen on foot, but those that want the best angles for photos will want to plan a boat trip in Lisbon, as no other views of the tower are quite as magical.
4. Lisbon boat tour
One of the most unique things you can do is to take a boat tour in Lisbon.
The view of the city during a Lisbon river cruise will provide you with endless photo opportunities and a profound sense of wonder.
A private boat tour in Lisbon can be perfect for a romantic experience or an unforgettable family adventure.
5. Boat parties
There's no party quite like a Lisbon boat party!
Lisbon is known for its sea-faring lifestyle, so what better way to appreciate the life-loving Portuguese culture and the gorgeous views of Lisbon by boat while listening to music and making memories.
Be sure to add a Lisbon boat party to your list.
6. Stroll through "thieves market" Feira da Ladra
We definitely aren't the only ones to proclaim that the Feira da Ladra is one of the best places to visit in Lisbon.
If getting close to the locals and the city's culture sounds interesting to you, then you'll need to stroll through the famous market at least once for some souvenir and antique shopping.
7. Fresh seafood
Out at sea on a Lisbon catamaran isn't the only place to get close to the fish.
Delicious seafood is served up at just about every restaurant in Lisbon, and you won't want to leave without trying some.
Lisbon is even home to nine Michelin-star restaurants!
8. Castles!
When you're planning your trip and deciding on what to do in Lisbon, don't forget to make time for exploring some castles.
The Palacio Nacional da Pena is number one on our list of castles. Its colorful design and awe-inspiring architecture truly look like something out of a fairy tale. Definitely worth a visit!
9. Rua August Arch
The Rua August Arch really is a sight to behold. Nestled nearby the Tejo river, the Rua August is a cornerstone of Lisbon culture and history. You can find the arch near the northern side of Praça do Comércio.
10. Ride the tram
Lisbon by boat might give you more photo ops, but you certainly can miss out on exploring the city by tram either.
The old tram is popular among those that love the old-world charm of Lisbon, as it was first put to use all the way back to 1873 and is still in use today.
11. Lisbon Cathedral
The Lisbon Cathedral is last but certainly not least on the list of places to see in Lisbon.
The Lisbon Cathedral was built in 1147, making it the oldest standing church in the city.
Talk about important (ad beautiful) history. History lovers must see this spectacular work of architecture.